There's a difference between a technician and a digital magician, and that difference is an important lesson that I've learned.
After a traumatic turn of events in my life when my son died in a hiking accident in September of 2015, I found myself heir to his fledgling digital marketing company (ABEM Digital Creations). In September of 2016, one year later, I decided to take a risk and begin a new career as an entrepreneur and to re-boot his business.
I signed up to go through ClickFunnels Certified Partner (CFCP) training and by January 2017, I'd done it! I was a Certified Partner.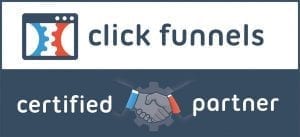 Anyway, so I was a Certified Partner
and ready to do… what?
What was my superpower?
I immersed myself in all things digital marketing. I did training for CSS, HTML, Google Analytics, Google AdWords, and Facebook Ads. I took courses in membership design and marketing strategies. And I worked on sales funnels to give to folks so that I could have results… but my business wasn't going anywhere.
Before becoming a CFCP, I was an academic (university professor) and research scientist, and my go-to default for "what do I do now?" questions was study more, gain technical competency, and compete for funding and jobs in a world with caps on earning.
Wow. I know now that I was setting myself up to be a technician—a commodity in a world that was new to me, where I was only just learning the "culture", language, and lay of the land… and as new kid on the block with less technical experience and a very limited portfolio of work to display, I thought I'd never make it work financially. But after some guidance from Russell Brunson, I realized that I am a rainmaker!
Though I'm not the DotCom "science" person, I've got the Expert Secrets "art" of sales and marketing. I actually have experience and expertise as an anthropologist and cultural geographer. I know how to study cultures and how to make sense of and share information about where/how people live and work. I've spent a lifetime communicating with people, whether by teaching them or leading them. I know how to work with others, and I have a track record of helping them find and tell their stories.
In the world of digital marketing, I capture and weave stories, which turn into offers, which transform into the marketing and sales strategies and funnels that generate business profit.
There's my superpower. I make it rain!
P.S. I had this epiphany after listening Russell's podcast (Episode 18: "How To Make It Rain," published July 19th, 2017). If you're an entrepreneur who wants some great ideas, and if you like to listen to podcasts, check out Marketing In Your Car!
My husband and I belong to a sports center in our local community, and I love it. A signature part…
Read More