For your eyes only? Think again…
There are very few instances when the original work of an author gets published without others proofreading, editing, or providing critique. Why should things be any different in the world of digital marketing?
The importance of having a sales campaign scrutinized can't be overstated.
The copy, design, user interface and user experience, technical aspects and platform integrations, as well as the offer presented should go through the equivalent of a peer review process. But unlike the world of academic publishing, digital marketers are not submitting to peer-reviewed journals. There is no cadre of academicians poised with their red pens ready to provide critique.
So where do you go if you're ready to publish a sales funnel, advertising, or website? Who's there to provide the editorial review? Though it is possible to get one-off support for copy, design, or tech aspects, there are precious few comprehensive options.
ABEM Digital Creations created our Campaign Audit offer to fill this gap.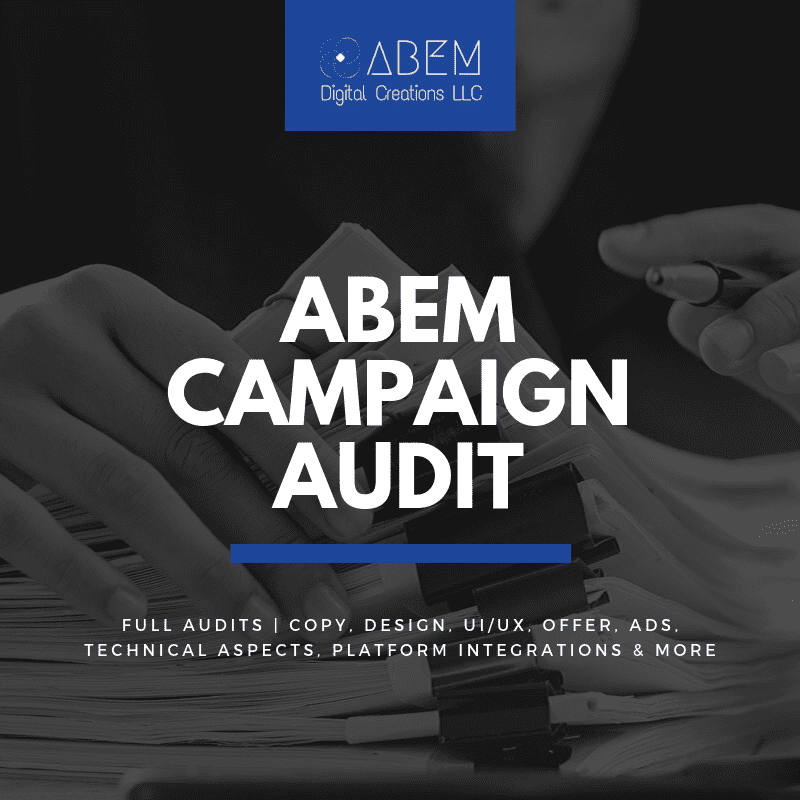 Your sales campaign is no longer for your eyes only!
What makes an ABEM Campaign Audit?
It starts with the ABEM Team. We are marketing professionals who combine our experience and expertise to provide exceptional insight. It's having five extra sets of discerning eyes on your marketing campaign – from skilled experts in copy, design, tech, social media, and offer creation/execution.
We carefully comb through every aspect of your campaign to find the "holes" where clicks and sales might be leaking out like a sieve! Not only do we diagnose those weak points, but we provide expert insights, action steps, and specific recommendations for improvement.
Let's face it… guessing at where your campaign is falling short is expensive. It costs time, ad dollars, and lost sales.
Wouldn't it be great just to know exactly what you need to do to improve the performance of your marketing?
Let our team of experts eliminate the stress of "wondering and waiting" and provide an in-depth analysis of your campaign.
You get not only our observations of what's working and what's not, but also some solid, proven recommendations for how to improve your funnel sales campaign to get the results you want.
ABEM's Funnel Audit is a "deep dive" for 1 sales funnel campaign; you get our observations of and recommendations for improving:
Funnel type choice
Funnel Tech and integrations
Copy (for the funnel, ad, and follow-up email)
Design/UI/UX (for the funnel, email messages, and ads)
The offer
Social media ads
The deliverable comes to you as a Comprehensive Report including:
Executive Overview
Scoring Matrix for every area of your campaign
Specific/Pointed recommendations and Action Steps
Contact us to get started!
If you like this article, please leave a comment and share it with your friends!
My husband and I belong to a sports center in our local community, and I love it. A signature part…
Read More